Air Supply and Ventilation Systems
We offer a comprehensive and inclusive solution for realizing ventilation systems, from ensuring positive pressure to complying with HACCP and other safety standards, across customer's entire plant, including a site review and installation.
Plant-wide Ventilation Planning
Manufacturing plants in general are equipped with ventilation systems in order to release the heat generated by their electrical and/or gas-powered equipment as well as to evacuate the odor and toxic gases produced through the production processes. However, with exhaust systems alone, there are problems with getting insects into products and ensuring safety standards such as HACCP. Ventilation is also relevant to product quality control; a simple ventilation cannot prevent the odor released into the ambient air in the plant from compromising the product quality.
With its expertise backed by experience, Naigai Industries offers the know-how to ensure positive pressures inside a plant establishing appropriate air flows for each manufacturing process. This service extends from a review of the plant to the installation of the ventilation system.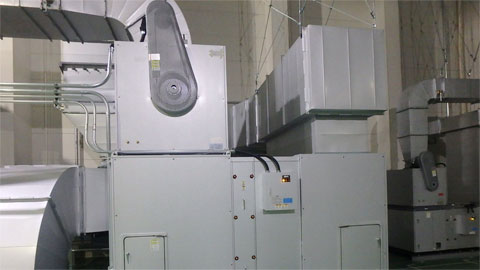 Local Ventilation
After researching and analyzing the sources of hot air and toxic gases generated in a plant, we apply local exhaust ventilation and push-pull ventilation techniques to supply and discharge air locally, thereby reducing the required levels of ventilation and air-conditioning loads. This approach brings down both energy consumption and costs.
Mechanical Ventilation
We investigate the exhaust from production equipment and then design a ventilation system that uses indoor exhaust recovery to lower air-conditioning loads to save energy through the effective utilization of exhaust heat and reduction of air intake through indoor exhaust recovery.
Our performance in this business area
Beverage manufacturer's plant (Miyagi prefecture)

Delivered a ventilation system
Beverage container manufacturers' plants(Hokkaido and prefectures of Miyagi, Ibaraki, Saitama, Osaka, Hiroshima and Saga)

Delivered a ventilation system
Contact Us
For detailed information about our products and services, please contact us using our inquiry form.