Cogeneration systems offer multiple advantages in terms of energy saving, reduction of CO2 emissions, securing an emergency power source and other aspects of business operations, for which more and more manufacturers adopt them in their plants.
Advantages of Cogeneration Systems
Our cogeneration system enables our customers to reuse the heat generated by power generation using a prime mover to operate heating/cooling equipment or to supply hot water. It offers a multitude of advantages.
In the power generation and transmission process, about 50 ~ 60% of the primary energy that is transmitted by power companies and other power plants is not utilized effectively, resulting in losses. On the other hand, a cogeneration system installed as a distributed power source in a power consuming area, such as a factory, can reduce losses to about 15 ~ 20% by recovering waste heat on-site, thus greatly increasing energy efficiency.
It is also possible to increase the power supply and perform peak cut operations during times of tight power supply during severe weather in summer and winter. Furthermore, the introduction of a blackout-compatible cogeneration system during power outages, such as those caused by natural disasters, enables the multiplexing of power sources and contributes to the Business Continuity Plan (BCP).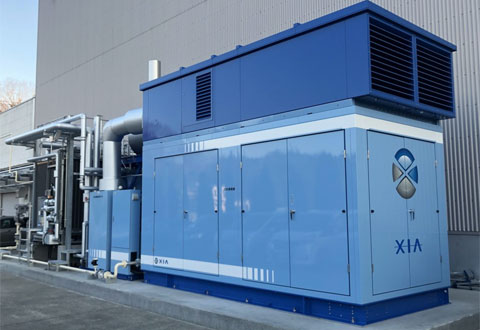 Support for Introducing Gas-powered Cogeneration System
We have introduced gas-powered cogeneration systems at plants and other business establishments. Our substantial know-how extends both to the gas-turbine and gas-engine type systems, where we can design an optimized system according to the application and size required. Our comprehensive services range from consulting to maintenance, including the installation as well as the periodic inspections and consumable replacements of the equipment in operation. We are also proactive in research and analysis of high-efficiency exhaust heat devices and their usage. Thus, our advanced technology enables energy savings for the customer, and contribute to society at large by saving energy through the latest technologies.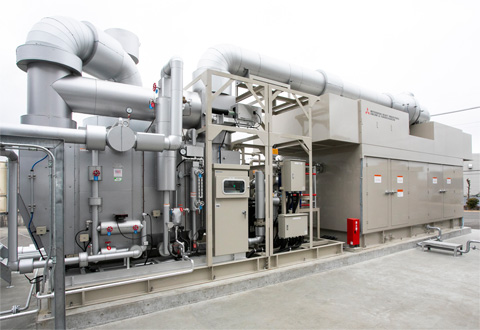 Our performance in this business area
Frozen food manufacturer's plant (Tochigi prefecture)

Introduced a cogeneration system
Beverage manufacturer's plant (Yamanashi prefecture)

Provided consultation and installed a global energy supply system
Confectionery manufacturer's plant (Saitama prefecture)

Introduced small CGS units (35kW/200V, 4units)
Contact Us
For detailed information about our products and services, please contact us using our inquiry form.