Temperature Control Systems
The temperature control units developed by our company are individually designed to ensure a stable supply of water at the specified temperatures, flow rates and pressures required for a given process in a production line. They can control a single line as well as multiple lines with their specific settings.
Cooling Systems for Food Manufacturing Machinery
Our systems are designed to deliver a stable supply of chilled water or brine where food products need to be cooled down or kept cooled in the course of production. They contribute to controlling and improving product quality.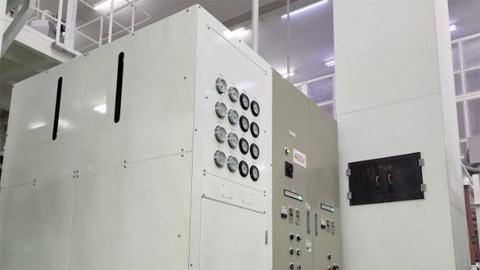 Special-purpose Air-conditioner
We manufacture a variety of special-purpose air-conditioners for production sites, including energy-saving units tailored for machinery used in metal and plastic molding, units for clean rooms, fan filter units (FFUs), including FFUs for aseptic filling systems. Each production line is designed to be optimal for long-term energy savings.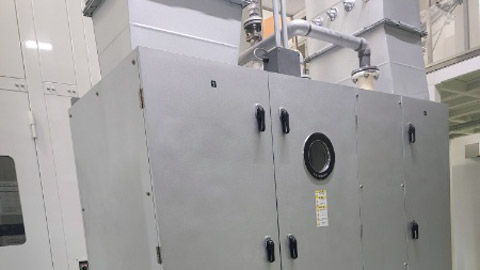 Desiccant-based Dehumidifiers
In instances when cooling production equipment with chilled water results in condensation on pipes and mechanical parts or when the quality of hygroscopic products is affected due to exposure to high ambient humidity, dehumidification can be achieved by cooling the air (and reheating) to lower the humidity. However, keeping the humidity at low levels consumes considerable energy for running the refrigerator and reheating the air. We are able to achieve energy savings by a chemical dehumidification process that uses a special honeycomb rotor to keep the dew point below zero degrees Celsius, maintaining a suitable environment for a variety of production equipment, ensuring high product quality and improving product storage conditions.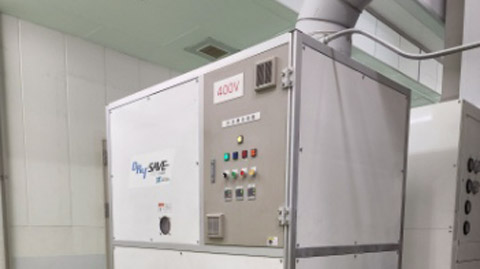 Our performance in this business area
Food container manufacturers' plants (Ibaraki prefecture and Thailand)

Delivered industrial air-conditioners
Food container manufacturer's plant (Saitama prefecture)

Delivered tool temperature control system
Contact Us
For detailed information about our products and services, please contact us using our inquiry form.