We have developed our expertise in clean room technology over the years, enabling us to offer state-of-the-art clean rooms that satisfy the most demanding requirements of food manufacturing.
Clean Rooms and Equipment for Maintaining Aseptic Environments
This product category includes equipment for maintaining contaminant-free conditions on food and beverage production lines and machines that supply clean air to aseptic filling systems. For each specific product or production line, we conduct in-depth reviews and determine the appropriate level of positive pressure, air balance and materials best suited for the intended use. The resulting environments comply with JIS Classes 5 to 8 (Fed. Std. M3.5-M7) standards.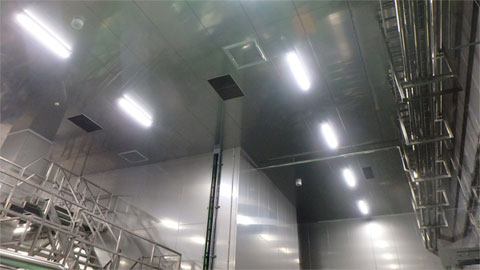 Clean Room Technology
Manufacturers today face a growing demand for securing clean environments for their production. Naigai Industries can help by offering high-value-added clean rooms through our total solution service which includes planning and design as well as installation. These clean rooms are backed by our expertise in manufacturing equipment and utilities, refrigeration and air-conditioning technology, and insulation panel machining technology.
Our performance in this business area
Beverage manufacturers' plants (Prefectures of Miyagi, Chiba, Gunma, Shizuoka, Hyogo and Miyazaki)

Delivered clean rooms
Contact Us
For detailed information about our products and services, please contact us using our inquiry form.